Ron Hernandez, DDS - Fremont, CA Dentist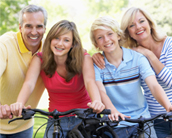 The practice of Dr. Ron Hernandez invites you and your family to receive comprehensive care in general, restorative, cosmetic, and preventive dentistry. We see patients of all ages, from children to seniors, so your whole family can receive quality dental treatment from us.
Our comfortable atmosphere is designed to put you at ease. Built from a restored house, our practice retains the cozy look and feel of a real home, avoiding the unpleasant clinical environment of the typical dental office. Our friendly staff enjoys getting to know patients and will help you and your children feel comfortable receiving care from us. We believe in educating our patients and helping them understand all their options. Every step of the treatment process will be explained to you by Dr. Hernandez or his experienced staff.
We are proud that our established practice has been treating patients in Fremont, Hayward, Union City, Newark, Alameda, and Milipitas for 40 years. We hope our website will aid you in learning more about us and what we can do to improve your smile. Please take a look at the different pages on our website and schedule an appointment with us soon!